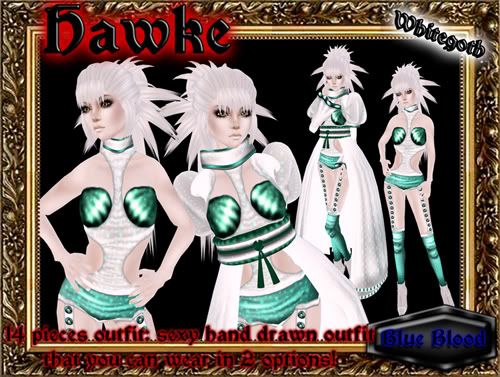 Ghanima has been a busy little bee! This week's new release is Hawke, and it's the sexiest +++BLUE BLOOD+++ outfit ever!
For the WhiteGoth, this time instead of light pastels, Ghanima used darker, more defined, colors with a metallic look. For the DarkGoth set, she made her usual black combined with jewel colors. As always, Hawke is 100% original work, hand drawn and hand painted. Even the sculpts were custom made for this outfit.
Hawke comes with a shirt with short, sculpted sleeves and a sculpted collar; a long-sleeved jacket with sculpted cuffs and a sculpted collar; two types of hotpants (with and without garters); a skirt; and over-the-knee socks. The skirt consists of a belt with skirt prims worn under the bust to create a flowing, very open, sexy look.
Hawke is available in DarkGoth red, teal, purple, gold, and black, and WhiteGoth white, gold, teal, pink, and purple. The group colors of the week are WhiteGoth purple and DarkGoth black. As usual, group members enjoy a 50% discount on the fatpacks.
Get your favorite color (or splurge and get the fatpack!) only at
+++BLUE BLOOD+++
.
Credits:
Poses - Oracul