Today's new release is Sakito, a sexy trenchcoat outfit. The trenchcoat can be worn separately or with the other parts of the full outfit - long stockings, with sculpted rolled ends, hotpants, and ruffles. The underpants also come with and without the garters. Sakito is Ghanima's sexiest outfit yet, and as always, it is hand drawn and hand painted. The sculpts are custom made by Ms. Uriza, as well.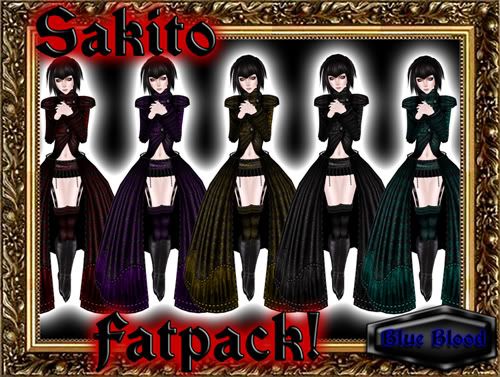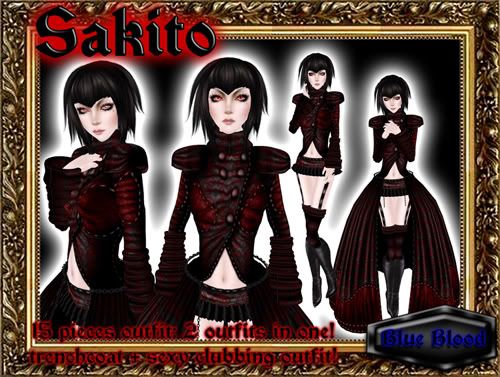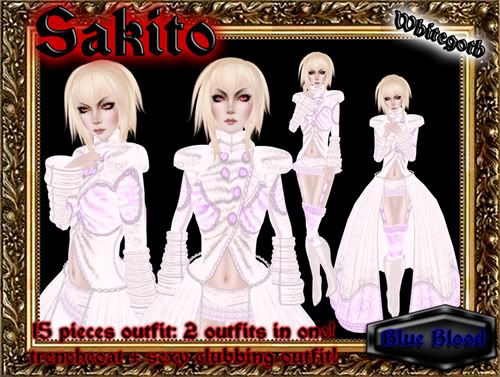 Here's my take on the sexy Sakito. :)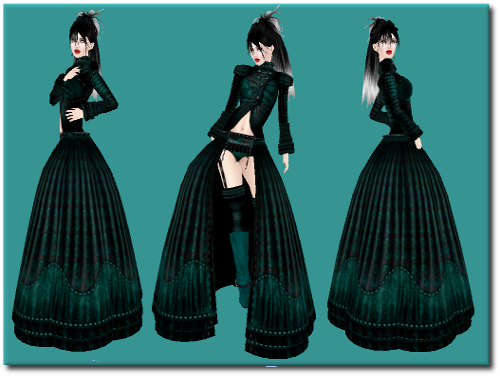 Darkgoth Teal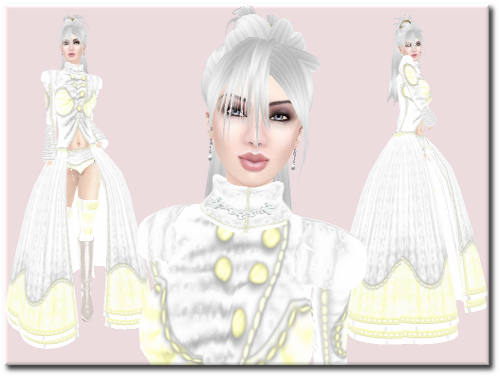 Whitegoth Cream (Group Only)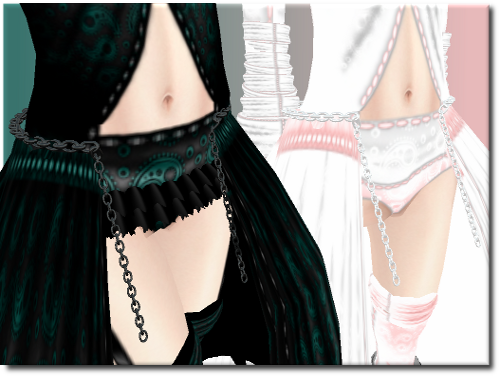 Detail of Chain Belts on Darkgoth Teal and Whitegoth Pink,
shown with and without the prim panty ruffles
Ghanima has really outdone herself with Sakito. The details on these outfits make them even more special. The skirts of the trenchcoats have prim chain belts, shown above. The belts are not closed, so the ends hang down. The collars of the trenchcoats have prim chain details, as well. You can see them in the larger pictures on the two composites above.
Sakito comes in the darkgoth colors of black (group only), gold, purple, teal, and red. The whitegoth colors are cream (group only), pink, white, purple, and teal. Fatpacks are 50% off for group members. Get it here. :)
Credits:
Worn by Ghanima Uriza
Skin: Trap
Eyes: Gauze
Boots: Bax Coen
Hair: Lamb
Poses: Oracul
Worn by Desiree Debruyere:
All Photos:
Skin - Zanzo - Reborn
Eyes - Shine - Silent Lucidity - Slate
Hair - Sirena - Sultry
Darkgoth Black Composite:
Earrings - Ticky Tacky - Save a Prayer Earrings - Black & Red (from set) - Haitian relief item
Boots - First Flower - Valerian Girls - Black
Darkgoth Teal Composite:
Earrings - Violet Voltaire - Love Like Blood Earrings - Overcast
Hair - same
Boots - Coquette - Quin Boots - Teal
Whitegoth Cream Composite:
Boots - Orage Creations - Bubble Boots
Earrings - Ticky Tacky - Pearl Teardrop Earrings - Edo (free)