Do you want some sexy goth lingerie? Do you want a beautiful, hand drawn and painted top that can be mixed and matched with other Blue Blood pieces? Well, Ghani has you covered! Today's release is Kaoru, a versatile outfit which can be worn in a multitude of ways. It comes in both dark goth and white goth versions in several different accent colors, including gold, red, teal, and purple.
And here are the whitegoth versions....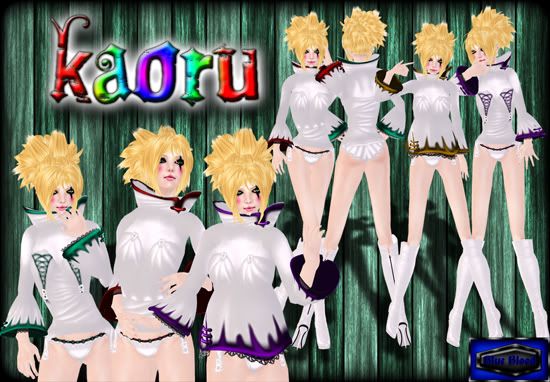 Ghani wants you all to know that
you'll see the big poster then the "choose your color" sign next to it. The "choose your color" sign is the only one with items for sale; the other one is just for show. So, click on the color you wish to purchase. Here's your limo.
Enjoy!
Credits:
Outfit by Blue Blood
Skin by Rosy Mood
Skin enhancer Innocence makeup by Blue Blood
Boots by Bax
Hair by gauze
Poses by oracul