+++Blue Blood++ has two special tattoo sets for you today. One is for the Silent Lion Troupe and the other is for Woeful Wednesday. The latter is only 'til Midnight tonight, unless Ghani keeps it up a bit longer. You have at least a week to get the Silent Lion Troupe item.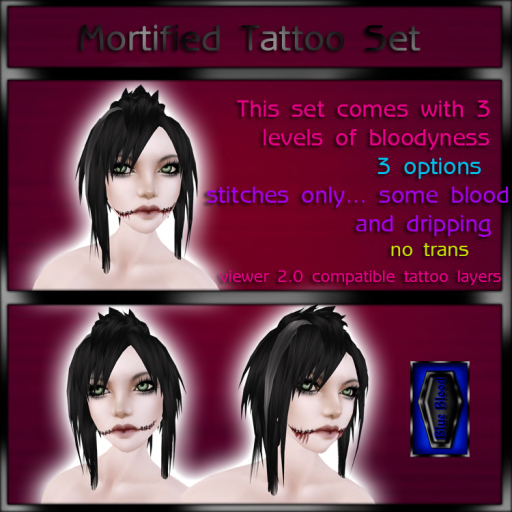 First up is the Mortified Tattoo set - three versions of scarred and bloody cuts around your mouth on the tattoo layer. It's the perfect addition to your Halloween costume, or for any time of the year if you live the goth SLife. :)
The Autumn Full Body Tattoo set is the item for Silent Lion Troupe - only L$75 and cute as can be. Don't you just love the little autumn leaves on the face and neck? And isn't Ghani looking especially cute and sexy in her ads these days? Yep, even if she does cover up her naughty bits. ;)
So, you know what to do. Get these specials before they're gone forever or the prices go up!
Here's your limo.