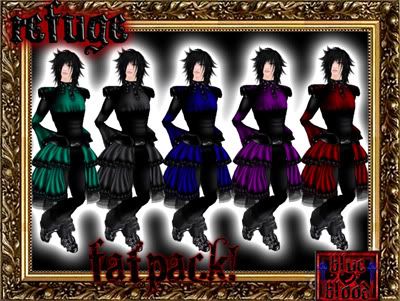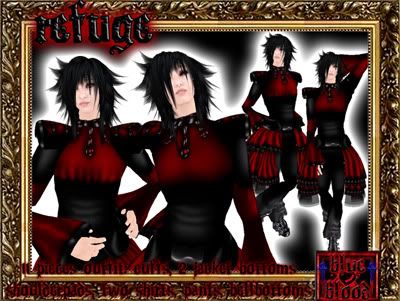 Dark, sexy and refined. That's what I think of when I see this outfit on a man. It's unusual to me but very well done. The thing that strikes me about this outfit is the jacket tails, I really like how they are delicate, yet masculine at the same time. I don't normally see that in a lot of suits for men in second life. Another thing I like is the corset type top, it's not an actual corset but it still has that structured look to it, very very nice. I love this one for men, I've seen a few guys in it and I must say...they turn a girls head...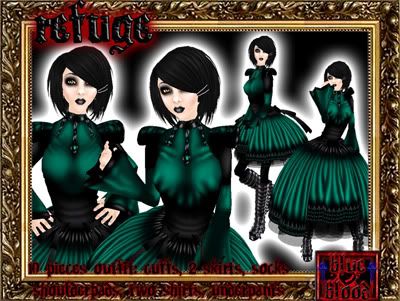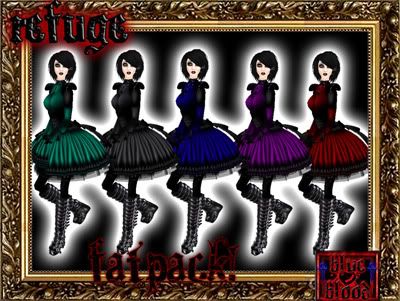 Classy, regal, defined and sexy all rolled into one outfit! This outfit comes with two shirt options, as does the male outfit, two skirt options and new sculpted sleeves! The outfit is beautifully crafted, with hand made textures and sculpts, with careful attention to detail and style. This dress is sure to suit any woman out there looking for a classy, timeless look. You can get both of these outfits in the
+++Blue Blood+++
Main-store now! Remember,
group members
get 50% off the fat back and the group only colour which happens to be the blue!
Be sure to wear your group tag before buying.
Credits:
Female:
Skin: Nomine
Hair: ::::Magika
::::
Shoes: Unique needs
Poses: Oracul
Male:
Hair: Deviant kitties
Skin: Animus and Visual Haiku
Shoes: Unique needs
Poses: Oracul
+++Blue Blood+++
Main Store
+++Blue Blood+++
Group Section