So, due to some RL things this post is a bit late, I'm sorry! The upside is I have two stunning outfits to show you!!!!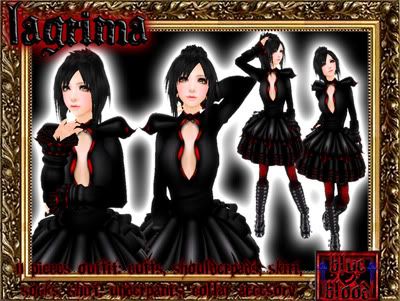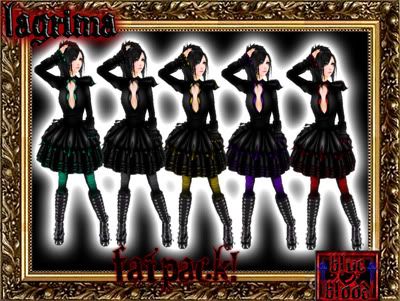 First up we have the outfit called Lagrima, which means 'Tear' in Spanish. But the only thing that could bring tears to anyone's eyes on this outfit would be the absolutely beautiful detail put into it! The embellishments on the skirt, the shape of the plunging neckline, and the tiny little gem,
which matches the gems on the skirt
, that hold the collar together. However, the skirt is what stands out the most to me. I've been looking at it for a while now and it's just amazing to see such beautiful hand made detailing! Something you truly have to see for yourself. Love this! I've been wearing it all day, it's so dark and seductive how could anyone resist it?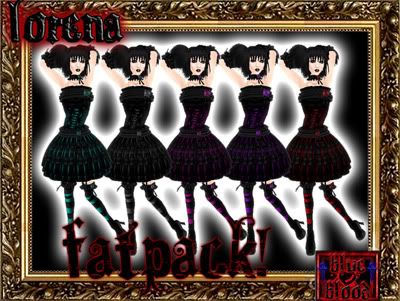 Up next we have Lorena! This outfit is drop_ dead_ sexy! I've actually been looking around for some interesting garter strap type outfits until Ghani released this outfit then my search was over. It's so unusual and can be worn many different ways, I love the diversity! The outfit is perfectly designed , the stocking ribbons and garter straps bring the lingerie outfit together and the sleeve attachments and the chest piece really complete it when the skirt is worn. So it's actually two outfits in one! You've got a beautiful dress for your daytime wear and a sexy lingerie outfit for the night time! As always both outfits can be found at the
+++Blue Blood+++
Main store and group members can get the fat packs 50% off in the group member section!
The group only colour for BOTH outfits is the black version! You can find them in the
group only section
of the store!
Credits:
Lagrima:
Skin: Sweets Party
Hair: HOM - House of Munster- (Currently closed, but will re-open soon)
Boots: Unique Needs
Poses by Oracul
Lorena
Skin: Nomine
Pumps: Nomine
Hair : HOM
- (Currently closed, but will re-open soon)
Poses by Oracul
You can find the oufits here!
+++Blue Blood+++
Main store
+++Blue Blood+++
Group Section