Yes, the Black Bacchanal has come to town once again, beginning today and ending on August 2nd. And once again +++Blue Blood+++ is taking part in this awesome three-day event where there's something for every budget. Ghani has made two amazing outfits for the Bacchanal. They are priced at L$13 (Gacha), L$113, and L$300. Let's take a look at the offerings.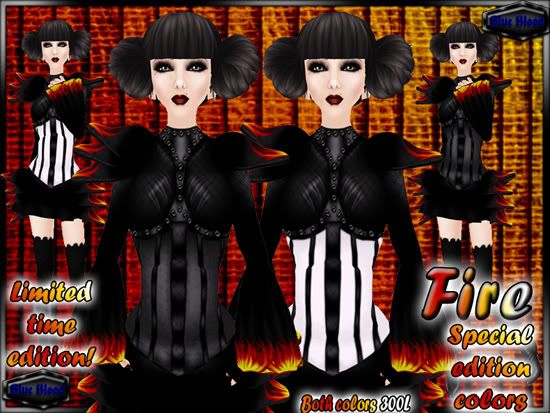 This is the L$300 offering - and you get two dresses for that price - limited editions which will *not* be sold after this event is over. These are the black and the white versions of Fire, which feature sculpted fiery shoulder, sleeve, and hip prims, as well as a corset and mini skirt. It's a hot (sorry, I had to use that adjective) and fun little outfit.
There are also four more colors of Fire - red and teal (shown above), as well as ocre and purple - priced at L$113 each, a bargain considering the work that went into making these outfits. As always, everything was hand-made and painted by Ms. Uriza and burns (sorry again lol) with her signature style. Last but not least, Ms. Uriza has made a L$13 Gacha outfit in four colors.
How sexy is that? Is it lingerie or is it a dress? Well, that depends on how bold you are, doesn't it? :) It's a bit reminiscent of Gorean style silks, I think, but without showing too, too much skin. Of course, as with all Gacha items, they're no copy/transfer so that you can trade to get the colors you want. Feel free to do it at the Bacchanal - you might just make a new friend.
The Black Bacchanal is being hosted this time by Ivey Deschanel of Sn@tch at her Sn@tch City sim, so you *know* it's going to be amazing. The theme this time is the movie Blade Runner, so you're sure to see some cyberpunk and replicant-inspired fashions from City of Dis, +DV8+, [Gauze], ImmateriA, Nomine, and Sn@tch. But hurry because the Bacchanal leaves town in three days.
Credits:
Fire: